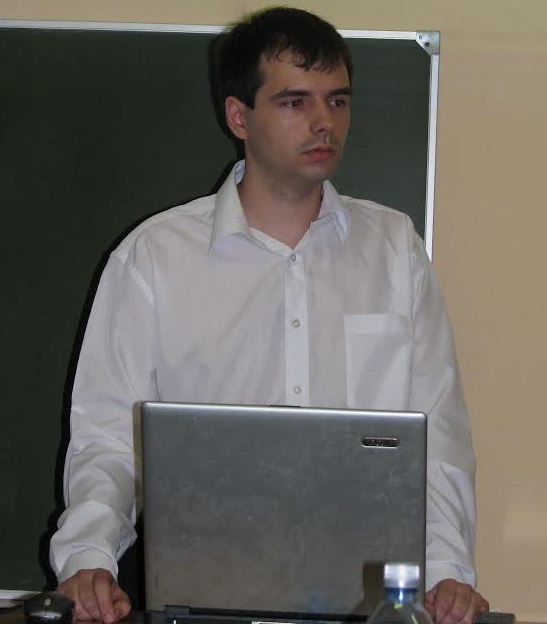 Education:
2005

– A high school diploma. S

chool

№103, Saratov

2010

– The diploma with honors of higher education on a specialty "Radio Physics and Electronics" qualification "Radiophysics" of the Saratov State University.

2013

– Postgraduate studies of Department of Radio Engineering and electrodynamics on specialty 01.04.04 "Physical Electronics".
Date of birth: 26.02.1988
Email: ip.boyar@gmail.com
Work phone: +7 (8452) 21 - 07 - 52
Fax: +7 (8452) 51 - 15 - 27
Research Interests
Molecular modeling;

Molecular electronics;

Nanoelectronics.

athematical modeling.
Main publications
Dmitry A. Kolosov, Vadim V. Mitrofanov, Michael M. Slepchenkov, Olga E. Glukhova Thin Graphene–Nanotube Films for Electronic and Photovoltaic Devices: DFTB Modeling // Membranes 2020, 10, 341. doi:10.3390/membranes10110341.
Michael M. Slepchenkov, Vadim V. Mitrofanov, Igor S. Nefedov and Olga E. Glukhova Electrical and Photovoltaic Properties of Layered Composite Films of Covalently Bonded Graphene and Single-Walled Carbon Nanotubes // Coatings. 2020. Vol. 10. Iss. 4. Num. 324 (11 p.). DOI: 10.3390/coatings10040324.
O.E. Glukhova, M.M. Slepchenkov, V.V. Mitrofanov Electronic properties of graphen-carbon nanotube films // Proceedings of SPIE. 2019. Vol. 11066. Saratov Fall Meeting 2018: Laser Physics, Photonic Technologies, and Molecular Modeling. P. 110661L-1-110661L-6.
V.V. Mitrofanov, M.M. Slepchenkov, G.Zhang, O.E. Glukhova Hybrid carbon nanotube-graphene monolayer films: Regularities of structure, electronic and optical properties // Carbon 2017. Vol. 115. P. 803–810.
Olga E. Glukhova, Vadim V. Mitrofanov, Mikhail M. Slepchenkov, Vladislav V. Shunaev. Manipulation of fullerene molecules on graphene // Proc. SPIE 9339, Reporters, Markers, Dyes, Nanoparticles, and Molecular Probes for Biomedical Applications VII, 933910 (March 24, 2015); doi: 10.1117/12.2080245.